Cross Draw Single Action Revolver Holster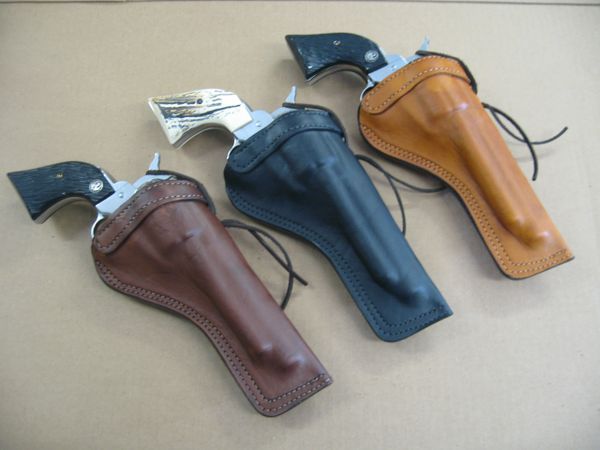 Cross Draw Single Action Revolver Holster
AZULA GUN HOLSTERS
Azula custom molded leather Cross Draw Holster for the Single Action Revolver of your choice from the pull down menu. Made from premium 9oz veg tanned leather right here is the USA. Don't be fooled by inferior non molded holsters that use chrome tanned leather that could damage your revolvers finish. Reinforced belt slot for belts up to 1 1/2" in width. Complete with a leather hammer thong to lock the revolver in the holster and can be slipped off for a fast draw.
All Azula Gun Holsters come with
a no questions asked lifetime replacement warranty against any defects.

Choose Right Handed or Left Handed Available in Tan, Dark Brown or Black. Each holster is custom built when you place your order so it takes about a week to ship.
PLEASE E-MAIL US WITH YOUR GUN MODEL AND WE WILL SEND YOU A PAYMENT INVOICE
WE ALSO HAVE THE SAME HOLSTER AVAILABLE
IN A STRONG SIDE VERSION .