IWB Non Collapsing Tuckable Holster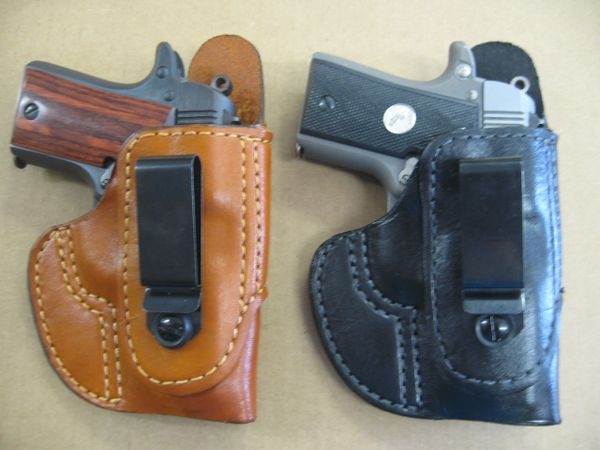 IWB Non Collapsing Tuckable Holster
Azula Gun Holsters Non Collapse Tuckable IWB Holsters are a custom leather inside the waist band IWB Non Collapsing Tuckable holster for the Handgun of your choice from the drop down menu above in either black or tan, right hand or left hand. Hand crafted from top quality 7oz leather and a 9oz leather reinforced tab to help keep the mouth open making for an easier re-holster. The 9oz reinforced tab wraps around the holster to keep the mouth open for those who want a non collapsing IWB holster. The back of the holster covers the top of the pistol slide with a full COMFORT SHIELD so it does not dig into you for additional comfort that is not found in many other holsters.
Comes with a belt/waist band Tuckable heat treated steel clip. Just tuck the holster into your waistband, cover with your shirt and you are ready to go. The Tuckable Steel clip allows you to cover your IWB holster with your shirt by tucking the shirt in between the holster and pants. Can also be used as a non tuckable IWB holster as well.
Azula Gun Holsters are hand made with a lifetime replacement warranty and come with a fully coated steel clip.